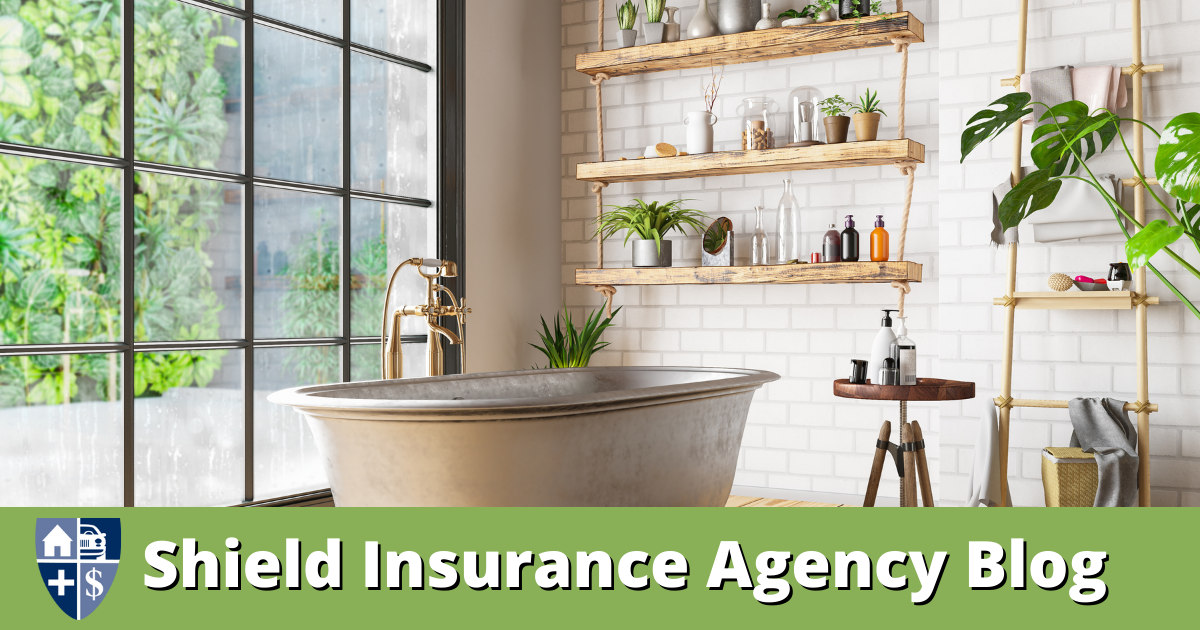 Ultimate relaxation and personal style are high in demand.
Better Homes & Gardens | By Kristina McGuirk | January 4, 2023 | Bathroom Trends | Shield Insurance
Bathroom design in 2023 will continue to build on themes emerging since 2020, including clean lines, easy-maintenance materials, and heavy doses of natural colors. At the same time, an underlying current is shifting our view of bathrooms from task-focused spaces to rooms designed for comfort.
According to Jean-Jacques L'Henaff, a design expert with LIXIL Global Design, the bathroom has transformed into a space focused on health, wellness, and relaxation. At the same time, larger home design trends are influencing aesthetic styles. As a result, personalization is driving a lot of the design choices, encouraging homeowners to create comfortable rooms with custom bathing experiences.
1. Fabulous Walk-in Showers
It seems that everyone agrees 2023 is the year of the shower. Pinterest Predicts identified an "elevated shower routine" among its top trends for the year. Similarly, 2023 Design Trends research by the National Kitchen and Bath Association (NKBA) and 2022 Bathroom Trends research from Houzz both report continued and increasing popularity in shower upgrades. This includes expanding shower sizes—two-person showers are preferred, according to the NKBA–as well as shower seats, multiple showerheads, and zero-entry showers for ageless accessibility.
But walk-in showers don't just have a functional focus: Michele Youell, an NKBA member and designer behind Natural Domain Interiors, points to design elements like sources of natural light, accent lighting, and visually stunning wall tiles that create an eye-catching shower when paired with the popular glass shower enclosure.
2. Removing Oversize Tubs
"While modern standalone tubs have been trending for several years, I have clients requesting removal of their large unused built-in tubs and reclaiming that space," says Youell. Instead, that area is being repurposed for other trending bath design elements, such as expanded showers or bathroom linen closets. Removing a tub can also open a floor plan to create a bath that feels less crowded and more serene.
3. Spa Bathroom Trends
There's a shifting mindset when it comes to bathroom design: instead of seeing bathrooms as strictly task-focused, consider them as spaces in which to relax and take care of your body. "It can help heal a sore body when you have the flu, or it can even help with sore muscles from skiing," says Lauren Schulte, NKBA member and owner and designer of Monarch Kitchen Design Studio.
Although showers are trending in favor of tubs generally, 2023 bathroom design is all about personalization, which means a rainfall shower for some, a soaking tub for others, or both. Steam showers are an increasingly popular solution, often including a bench or seating to encourage relaxation. "I am also designing with a lot of open shelves so clients can roll towels like you would see at a luxury spa and incorporate soft inviting colors to help it feel zen," says Schulte.
Natural and dimmable lighting, and incorporating more greenery, are similar spa-inspired trends noted by Houzz. Altering the floor plan and creating separate spaces, like partitioning off the toilet for more privacy, is another way to get a spa-like bathing experience. 
4. Wood Vanity Bathroom Trends
Painted finishes, especially white, have been the dominant choice for bathroom vanities of all shapes and sizes for years. But in 2023, expect to see a lot more natural wood on bathroom vanities and cabinets. Both Houzz and the NKBA are seeing wood coming in close second to (if not surpassing) the once-domineering white vanities. Cane and wood-pattern inserts were also added to the NKBA's vanity styles for the first time this year. This increasing appeal of wood complements the rapid rise of modern organic style and warm colors that we've seen in the last two years.
---
More great blogs from Shield Insurance Agency
Read More